History of Gumbo
By Mark Huntsman at
Of all the dishes in the repertoire of Louisiana cooking, gumbo is undoubtedly the most famous.  One of the oldest dishes in Louisiana and a source of culinary pride as far back as there are written records.  In modern times it has become as much of a cultural symbol of Louisiana as jazz or the bayou.  Even more so than jambalaya or red beans and rice, it is ubiquitous in restaurants, at special events, and in homes of all classes throughout Louisiana.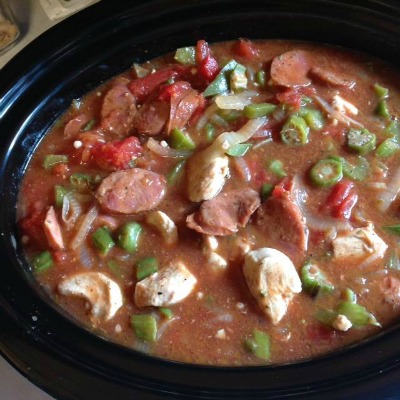 Generally speaking, a gumbo is a thick, dark soup containing a mixture of rice, vegetables, and meat or seafood.  Yet when it comes to ingredients, the one constant in gumbo is variety.  Stanley Dry lists just two hard and fast rules:  a gumbo must always contain rice, and it must always be thickened with something.
Most gumbos are, in fact, double-thickened – first with a dark, oil-based roux (although Gumbo Z'Herbes is sometimes roux-less, as are some 19th century recipes), and then using either okra or file powder, but never both (to connoisseurs, this is as uncouth a practice as blending a Bordeaux with a Riesling).  Otherwise, anything might be thrown into the pot; one can even find written references to gumbo made with owl and muskrat.  However, despite this unlimited potential, the vast majority of gumbos fall into one of three categories:
Seafood Gumbo:  Containing some combination of oysters, shrimp, crawfish, and/or crabs, and more often made with okra than file.
Poultry and Sausage Gumbo:  Which uses either chicken or turkey in combination with pieces of andouille or other smoked sausage, and more often made with file than okra.
And the increasingly rare Gumbo Z'Herbes:  A meatless soup created for Lent that incorporates a wide variety of greens.
The greens symbolize different things to different families.  Most often the number of greens a person uses represents the number of new friends he or she is supposed to make that year, but said number is different according to different authors: some list a specific number like 7 or 9, while Fitzmorris insists on an even number of greens and Folse on an odd.  Leon Soniat best explains the reality of the situation:
"When we got to the vegetable stands, where we bought the ingredients for the GUMBO Z'HERBES, there would be vegetable men or hawkers and their cries of 'Get your greens, lady, get your twelve greens, get your fifteen greens, get your seven greens '– the numbers changed as we passed by each of the different stands."
Because gumbo has been a staple in Louisiana kitchens long before written records of the dish existed, there are many myths surrounding its origins.  No one is even certain whether the dish is Cajun or Creole in origin – the oldest mention to date is when French explorer C.C. Robin ate it at a soiree on the Acadian coast in 1803.  Yet there are records of New Orleans creoles enjoying it during roughly the same time period.
It is not uncommon to read that gumbo evolved from French fish soups such as bouillabaisse.  This seems highly unlikely for a number of reasons, particularly because – while Louisiana has its own version of bouillabaisse that is similar to the French version – the only ingredients in common between your standard bouillabaisse and your standard gumbo are water and salt.  Contrary to popular belief, the seafood gumbos that people erroneously assume to be the descendants of European fish soups were not the original style of gumbo, as the Cajun diet contained very little seafood before the 20th century.
The oldest records I have found that describe the contents of gumbo are from Pavie in the Borderlands: The Journey of Theodore Pavie to Louisiana and Texas in 1829–1830, Including Portions of His "Souvenirs atlantiques"
by Betje Black Klier,where he mentions consuming:
"…lots of squirrel gumbo, a delicious stew made with rice and Chateaubriand's sassafras…"
Despite these longstanding myths, as early as 1885 there were writers who recognized gumbo as the culinary legacy of the African/American community. Although the French contributed the concept of the roux and the Choctaw invented file powder, the modern soup is overwhelmingly West African in character.  Not only does it resemble many of the okra-based soups found in contemporary Senegal, the name of the soup its self is derived from the Bantu words for the okra contained within (guingombo, tchingombo, or kingombo.  A legacy of the colonial era, the modern French word for okra is quite simply "gombo").
Additionally, Jessica B. Harris has found Afro-Caribbean soups with similar compositions and names to their Louisiana counterpart.  The recipe she gives in Iron Pots, Wooden Spoons (45) for a Giambo from Curacao reads like a modern Louisiana gumbo:  onion, celery, a ham hock, a bay leaf, etc.
While gumbo may be eaten at any time and for any reason, it may just as easily be featured as part of a special celebration.  For example, John Folse lists gumbo among the ingredients of the traditional Louisiana reveillon spread.  While the New Orleans Mardi Gras focuses on dishes such as Grillades and King Cake, gumbo is crucial to the Cajun version of the holiday.

Mark Huntsman grew up in Madison, Wisconsin, and has lived in France and South Korea. He received Bachelor of Arts degrees in French and linguistics from the University of Wisconsin in 2002, and a Master of Arts degree in French from Louisiana State University in 2007.  A former national merit scholar, he is the recipient of numerous grants and awards, including most recently a Board of Regents fellowship from Louisiana State University.
He is also an avid traveler who has visited 42 countries and 45 American states.  He also enjoys cooking and sports journalism.
Recipe

Recipe Courtesy of Paula Deen and
Gumbo
Level:

 

Intermediate

Total:

 

2 hr 40 min
Prep:

 

15 min

Cook:

 

2 hr 25 min
3 large boneless skinless chicken breast halves
Salt and pepper
1/4 cup vegetable oil
1 pound smoked sausage, cut into 1/4-inch slices
1/2 cup all-purpose flour
5 tablespoons margarine
1 large onion, chopped
8 cloves garlic minced
1 green bell pepper, seeded and chopped
3 stalks celery chopped
1/4 cup Worcestershire sauce
1/4 bunch flat leaf parsley, stems and leaves, coarsely chopped, plus chopped leaves for garnish
4 cups hot water
5 beef bouillon cubes
1 (14-ounce can) stewed tomatoes with juice
2 cups frozen sliced okra
4 green onions, sliced, white and green parts
1/2 pound small shrimp, peeled, deveined and cooked
Season the chicken with salt and pepper.
Heat the oil in a heavy bottomed Dutch oven over medium-high heat.
Cook the chicken until browned on both sides and remove.
Add the sausage and cook until browned, then remove.
Sprinkle the flour over the oil, add 2 tablespoons of margarine and cook over medium heat, stirring constantly, until brown, about 10 minutes.
Let the roux cool.
Return the Dutch oven to low heat and melt the remaining 3 tablespoons margarine.
Add the onion, garlic, green pepper and celery and cook for 10 minutes.
Add Worcestershire sauce, salt and pepper, to taste and the 1/4 bunch parsley.
Cook, while stirring frequently, for 10 minutes.
Add 4 cups hot water and bouillon cubes, whisking constantly. Add the chicken and sausage.
Bring to a boil, then reduce the heat, cover, and simmer for 45 minutes.
Add tomatoes and okra. Cover and simmer for 1 hour.
Just before serving add the green onions, shrimp and chopped parsley.
Print the recipe in Adobe Acrobat – Gumbo – Recipe by Paula Deen
Make sure to check out other great recipes by Paula Deen and
Enjoy our website and by all means leave us your comments, criticisms and recommendations.