Spaghetti Fun Facts
Spaghetti is made of semolina or flour and water. Italian dried spaghetti is made from durum wheat semolina, but outside of Italy it may be made with other kinds of flour.
Spaghetti is the plural form of the Italian word spaghetto, which is a diminutive of spago, meaning "thin string" or "twine."
January 4th is National Spaghetti Day.
Italians never use a spoon and a fork when eating spaghetti. This is an American habit. In Italy you simply twirl a fork against the dish.
Thin spaghetti served with tomato sauce dates only as far back as the 19th century, to Naples, Italy. In Naples the sauce was served with fatty meats like bacon, ham or sausage. Meatballs made with beef as an accompaniment to spaghetti started showing up in American cookbooks around World War II.
The world record for largest bowl of spaghetti was set in March 2009 and reset in March 2010 when a restaurant in Garden Grove, Buca di Beppo, outside of Los Angeles successfully filled a swimming pool with more than 13,780 pounds of pasta.
In the year 2000, over 1.3 million pounds of spaghetti were sold in American grocery stores. If all of those packages were lined up, they could circle the Earth nine times.
April 1 in 1957, the BBC made everyone believe that spaghetti grows on trees. At the time, spaghetti was considered by many as an exotic delicacy. The spoof program explained how severe frost can impair the flavor of the spaghetti and how each strand of spaghetti always grows to the same length. This is believed to be one of the first times television was used to stage an April Fools Day hoax.
Facts and Picture Courtesy of
Recipe
Great Grandma's Pasta Sauce
Recipe and picture courtesy of
If you want to taste what the Italians are so blessed with over in Italy, I suggest you give this pasta sauce a try. You won't ever go back to your plain 'ol marinara that you thought was good. This sauce here is beyond genuine and you will love it!
Ingredients
INSTRUCTIONS
In a large stockpot, saute garlic until soft and fragrant in 2 tbsp. of olive oil, about 2 minutes.

Throw your meat in with the garlic and brown until meat has been thoroughly cooked through, about 5 minutes. Season with salt and pepper.

Pour in the tomato paste, tomato puree, and seasoning, including the fresh basil. Stir to mix well. With the 6 oz. can from the tomato paste, fill that with water and pour it in the stockpot as well.

Let mixture simmer, uncovered, for 2 or more hours (the longer the better, but minimum 2 hours), stirring occasionally.

Serve hot over fresh pasta.
NOTES
A lot of people have asked about freezing this. I have not personally done this myself but I believe if you freeze this in an airtight container or a jar, it will be ok for up to 2 months. Do not freeze it immediately after making it. You'll want it to cool to room temperature before putting the jar or container in the freezer to prevent cracking.
On making this in the slow cooker: I've never made this in the slow cooker before, however, I believe it's pretty do-able. This is what I would do: brown your meat, put it in the insert of the crockpot, then add all the other ingredients, stir, cover and cook on low for 3-4 hours or high for 1-2 hours.
Nutrition Facts
Great Grandma's Pasta Sauce
Amount Per Serving (1 serving)
Calories 263
Calories from Fat 81
% Daily Value*
Total Fat 9g14%
Total Carbohydrates 24g8%
Protein 23g46%
* Percent Daily Values are based on a 2000 calorie diet.
*Nutrition facts are an estimate and not guaranteed to be accurate.

If you enjoy cooking you will run across a lot of recipes that recommend a Dutch Oven.  Wal-Mart has a great cast iron Dutch Oven for under $35.  Believe me, whether it is this one or a more fancy version, you will be thankful you invested in one.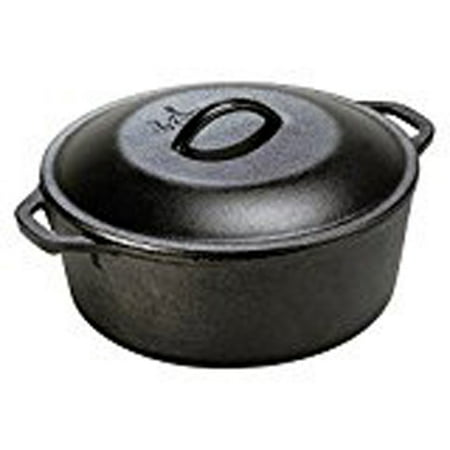 $32.68
For more information and to purchase

Enjoy our website and by all means leave us your comments, criticisms and recommendations.
Please note we use affiliates and receive a nominal commission when items are purchased.